Chance UK offers a holistic family approach to working with children and their parents and carers.
Using the solution-focused model of behaviour change and working in a trauma-informed way, we support primary aged children to build resilience, develop their social and emotional skills, plus experience new challenges with a safe adult.
Our signature, award-winning mentoring intervention pairs a child with a mentor or youth worker for 6-9 months. In weekly 1:1 sessions, the child and their mentor build a high quality and reliable relationship, set goals, practice regulating their emotions and behaviours, and try out new things. Each carer also has the opportunity to access 1:1 and group parenting support throughout their child's time with Chance UK. Our parent programme empowers parents to feel confident in supporting their child through advice clinics, 10 week workshop programme and 1:1 support.
Towards the end of the relationship, the mentor and child prepare for a positive ending: reflecting on the highs and lows, and thinking of ways to celebrate their achievements at the graduation ceremony. At the end of mentoring, each child can keep developing the skills they learned through an activity covered by the Joy Fund.
This year 247 children have benefitted from the mentoring and 89% of children show improved behaviour after mentoring.
Our universal group workshops take place in school settings and use our solution focused, strengths based approaches to support children to build and maintain resilience as they encounter challenges. Our standalone 90 minute sessions cover a range of topics from making the change from primary to secondary school to supporting children to process the pandemic.
Our bitesize parent programme is available as a wellbeing package to businesses, who can support their workforce through 3 sessions:- positive, solutions focused parenting; Bounce Back – the science and essentials of resilience-building and tackling challenging behaviour positively.
What you guys have done for us is outstanding.

Parent
Our Mentoring Programmes
My Future
My Future supports children to develop their self-esteem and self-regulation through one-to-one mentoring and group sessions.
For children who experience above average behavioural and emotional difficulties (scored according to the Strengths and Difficulties Questionnaire).
For children in primary school years 1 to 6.
On offer in Camden, Islington and Southwark.
Lasts up to 9 months.
LIFT
Our new LIFT programme offers gender responsive support through safe spaces, delivering 6-9 months of support for girls referred with trauma, anxiety, early signs of depressive thinking or deemed vulnerable due to varying factors. The programme offers one-to-one sessions with a professional youth worker and group sessions to support their development, including one-to-one and group support for parents and carers.
For girls aged 9 to 13.
On offer in Camden, Hackney, Islington, Newham, Tower Hamlets and Westminster.
Lasts up to 9 months.
Includes parent/carer support.
For girls affected by domestic abuse, or gang/familial/CJS involvement and are struggling with self-esteem, healthy relationships with family/friends
For girls who are struggling with mental health and wellbeing, exhibiting early signs of anxiety or depression, including having experienced ACEs
For girls in transition period for secondary school (where risk increases, and attendance and engagement can be problematic)
For girls at risk of/have experienced exclusion, exhibiting behavioural difficulties (early indicator for gang involvement), including in-reach into school.
Safer Space
The Safer Space programme offers one-to-one support for children and young people to help reduce risk factors, increase protective factors and improve resilience levels.
For children who have witnessed Domestic Abuse.
For children aged 5 to 13.
On offer in Islington.
Lasts up to 6 months.
Includes parent/carer support.
STEP
Our Secondary Transition Empowerment Programme supports children as they make the move to secondary school through one-to-one mentoring and group sessions.
For children who have SEMH needs or current/past involvement from CAMHS.
For children in school years 6 and 7.
On offer in Islington.
Lasts up to 9 months.
Includes parent/carer support.
The Westminster Programme
The Westminster programme is an early access, stepped model of support for Children and Young People in Westminster to build the resilience and self-confidence to reduce risky behaviour through one-to-one mentoring and parent and carer support.
For children aged 8 to 13.
For children experiencing difficulty, exhibiting social, emotional and mental health difficulties or Special Educational Needs (SEND).
For children at risk of NEET Indicators (RONI).
For children at risk of CAMHS intervention (RCI).
Lasts up to 6 months.
Includes parent/carer support.
Westminster Community Groups
Our new Westminster-based programme supports children and young people with emotional and behaviour difficulties to build resilience and self-confidence and reduce risky behaviour. The key focus of the programme is the development of coping strategies in adolescence achieved by intervening earlier in development through the provision of an enabling environment and engaging activities. 
For children who may have undiagnosed SEND or SEMH.
For children on the waiting list for CAMHS, or with previous involvement.
For children aged 8 to 13.
On offer in Westminster.
Lasts 12 weeks.
Includes parent/carer support.
This has been so important for my family and me. You guys have been so welcoming, so kind. It has helped so much.

Parent
Our New Workshop Offer
Building strength for tougher times: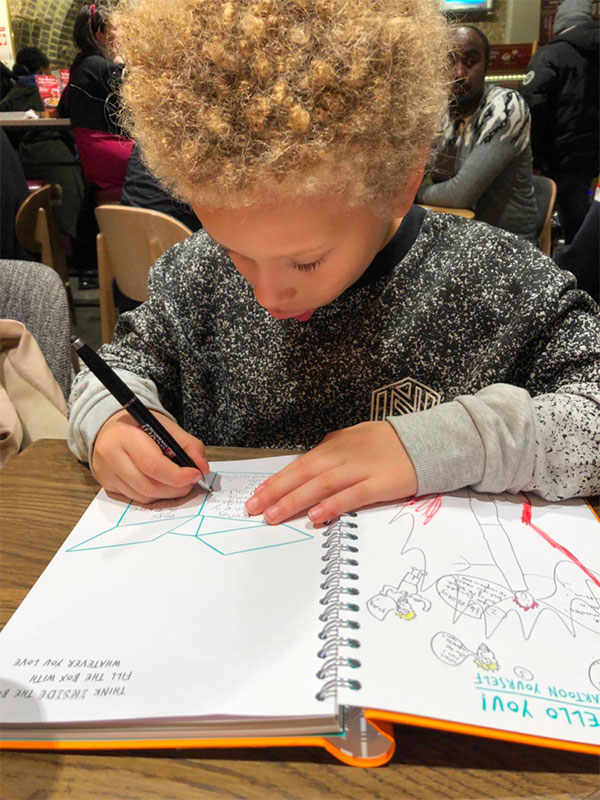 90 minute workshop offer to support children return to school in the autumn term. We know this has been a challenging time for all but particularly for children and schools. We have developed a 90-minute workshop to support children's return to school. The workshop will help children:
reflect on what's happened and the changes they have experienced (and continue to experience) since the Pandemic and how it feels to be back to school
learn techniques to manage anxieties and worries they may have
draw on their individual strengths, using a solutions focused approach to support wellbeing and re-integration back into school
Transitions workshops:
These workshops which can be accessed by a full year 6 class and they focus on dealing with anxiety and coping with change ahead of the transition into secondary school. 91% of students agree or strongly agree that changes are a normal part of life
88% of students agree or strongly agree that everyone feels differently about change and there are ways to make changes feel less scary
– 78% of students agree or strongly agree that they have some skills and qualities that will help them make the change to year 7
– 73% of students agree or strongly agree that if they feel worried about year 7 they know some strategies to help
Was really useful! Definitely something we can revisit in the build up to SATS and secondary school.

Teacher response to our school transition workshop