Finding expression through art
Dan is a chatty and energetic boy who likes to play football, bake with his family, and during lockdown, has been growing his own vegetables in the garden! He also loves drawing and colouring. Unfortunately, Dan has also really struggled to regulate his behaviour and emotions at school, and finds it hard to stay focused. This has resulted in more than one school exclusion. The absence of much social contact with peers after a period of not being on roll at a school often made him feel low.
So when Dan was referred to us for mentoring, we knew Tina would be a great match as a mentor. Not only does she share Dan's energy, chattiness and enjoyment of arts and crafts, but Tina is also a Family Support Worker and training to be a counsellor – skills which would help Dan in his mentoring goals.
A challenging start
Dan and Tina were fortunate to start mentoring when face-to-face sessions were possible – during the window when Covid restrictions were eased in summer 2020. Things were a little challenging at first, as Dan pushed at boundaries early on in the mentoring relationship. But Tina focused instead on recognising and praising Dan for all the positive behaviours he displayed during sessions, like his good humour, patience, and good turn-taking. She also made a point of feeding back these positives to Dan's mother after sessions. As sessions continued, Dan became friendlier and more open towards Tina, sharing more of his interests.
Turning a corner
The return of tighter restrictions and a move to virtual mentoring were initially a set-back for the pair. It was a struggle to adjust to the new medium and Dan found it hard to engage. Tina persevered and let Dan take more ownership of sessions – guiding content according to his interests. And in this way a corner was turned and Tina discovered the extent to which Dan enjoys expressing himself through art. Tina decided to use their monthly mentoring budget to buy him some art materials, and they began using them on sessions.
Dan showed another side to him this session, he showed me his pictures and shared some of his writing. I was really impressed by this and really glad he felt safe to share.

Tina, Dan's mentor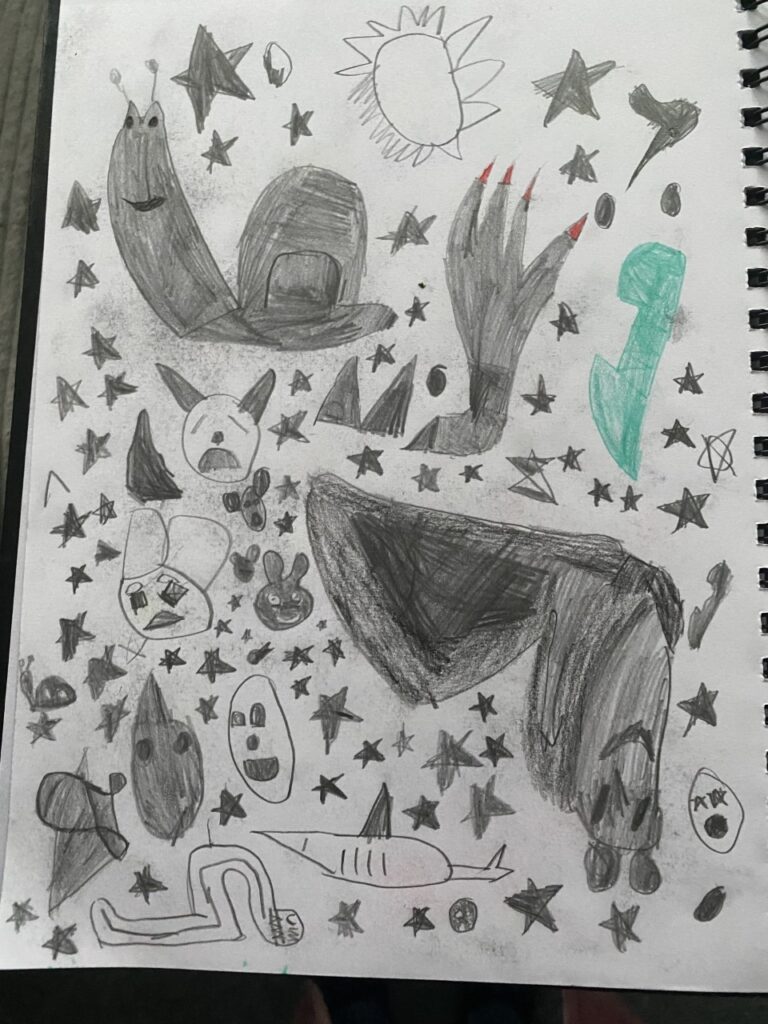 Once they had discovered this shared interest, Dan began to focus a lot more during sessions, and became more willing to try new activities that Tina suggested. They played a variety of different games that helped keep him active, whilst also aiming to continue to develop his focus. Tina saw a real change in their relationship.
I'm feeling really good about my sessions with Dan. They are so much better than where they were before. He has a lot of things he's really passionate about – specifically art and animals. It's been a full turn around. He's eased off a lot on pushing boundaries as well.

Tina
The impact of mentoring 4 months in
After only four months of mentoring, Dan has shown a huge amount of progress in terms of his focus and his manner towards Tina. This progress is seconded by Dan's mum, who commented to his mentor that she had seen progress in how Dan behaves on sessions and that he really looks forward to them each week.
During the next few months of mentoring, Tina will focus on helping Dan with his behaviour in school. Now that their relationship is stronger, she hopes that Dan will be able to talk more about his school behaviour, so that they can work together to develop a positive attitude to school and learning.