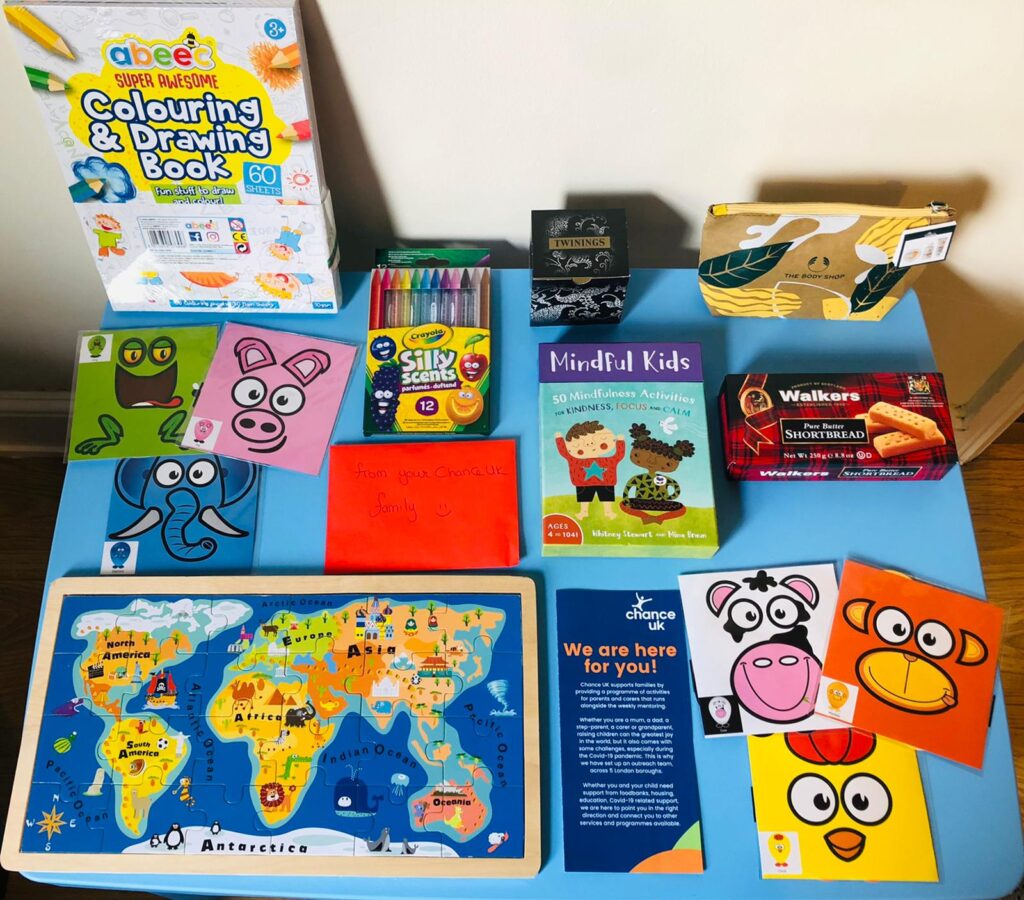 By Rita Vaz, Outreach and Youth Worker
When Chance UK announced it was running an outreach campaign in March, involving door-step visits to families we are supporting and providing them with care packages, I leapt at the chance to deliver this programme. It is in my nature to reach out and connect with people, so the opportunity to meet families across the doorstep – at a safe distance – and talk to them about how they are doing, was one that really drew me. It has been a really rewarding experience so far.
Care packages and sign-posting
Our Outreach Programme had three strands. The first involved assembling and sending care packages to every family we work with – 154 in total. The packages included four colouring books and scented pens, tea and biscuits, a bag with Bodyshop products for parents, a world puzzle, and many other games for the children – there was something for everyone in the family! We've had some heart-warming feedback about the deliveries, and interestingly the item that has proved especially popular among families are the Mindful Kids Cards. This deck of cards describes a range of activities that promote mindfulness, calm and focus. Families have apparently enjoyed doing them together, so the outcome is a double-win of promoting both wellbeing and effective communication within the family.
A second strand of the programme involved signposting families to local services. And so the care packages also included a borough-specific leaflet advising families of the local services and organisations that offer support in areas such as housing, financial advice, domestic abuse, education and mental health.
"Thank you for the gift you sent for K- and myself, we really appreciate it. He has loads of activities to do over the Easter which is good. I appreciate what Chance has done for my son."
Mother of a child on our mentoring programme
The third strand of the Outreach campaign, and the most rewarding for me personally, were the visits. We prioritised those families that we considered to be more vulnerable, across the four boroughs we work in: Islington, Camden, Southwark and Lambeth. Without exception every family I visited was extremely welcoming and friendly – even though they had never met me personally. Clearly Chance UK is an organisation they trust.
Isolation
Carers spoke freely about the challenges and frustrations that the last year has thrown up. But the single most common theme that conversation returned to was the intense isolation they have experienced.
Restrictions have stripped away many – in some cases all – of the pillars of support that a single parent might have relied on prior to the pandemic and its restrictions. At the same time, the demands of home-schooling and the stay-at-home restrictions increased the pressures on these families. The removal of much needed support – be it the visit of a friend, or the childcare support offered by a parent – takes away opportunities for a grain of restorative 'me' time; the chance to get other work done; or simply time to rest.
These are not challenges uniquely faced by Chance UK families. But where isolation and lack of sufficient support networks were already experienced before the pandemic – as is the case with many of the families we work with – this challenge has really intensified and it often feels overwhelming.
Feeling heard builds trust
When you feel overwhelmed, talking does help. And that is where door-to-door also make a difference.
I visited the home of one 8 year old boy on a Chance UK mentoring programme. He lives with his grandmother and brother in a one bedroom flat. His brother is asthmatic, placing him in the category of those who needed to shield themselves for many months. The 8-year old boy – let's call him Adi – already struggled with his emotions, but the impact of the pandemic and its restrictions has affected him a great deal. And he has not yet returned to school.
While I chatted with grandma at the door, he appeared extremely withdrawn, detached. This is how things are usually with him, I was told. He does not want to leave the house, even when he can; he is sad and listless, and sometimes gets aggressive.
Grandma spoke freely, and said how much she appreciated the visit and being heard. This is so important. Where families are hard to reach on the phone, especially where the situation is difficult and complex, an in-person visit gives a family a safe space to reflect, share, unburden; it shows a family that we really are there for them. With this gift of trust we can do more to support them.
Practical ways we can help
Chance UK is responding to a wide range of practical needs our families tell us about. We are, for example, making referrals to food banks, liaising with local councils and social services, sign-posting families that have no recourse to public funds, helping them raise cases with the Tenancy Relations Service, finding interpreters to help offer support. This is besides the structured parenting support programmes we offer. And we are always there to listen.
Resilient families
We will continue with the outreach visits because they are important and we get a better understanding of what our families need. But the experience so far leaves me with the strong impression of the incredible resilience of the families we work with. Despite the sense of isolation, the financial pressures, the struggles of home life, they are making it work. As one mother expressed it: "I don't know how I'm coping but I have to and so I am." They are doing an amazing job under the circumstances.