Helping you find your strengths
How we work
We work together with children aged 5 to 13 and their carers to create a brighter future.
Our mentoring programmes and parent programme are founded upon solution focussed, trauma-informed approaches. This means we support children and carers to identify their strengths, imagine their preferred future, notice their triggers, express their feelings and practice coping strategies.
I didn't have a lot of faith in myself… the mentors that I had made me speak up more and to open up more. On a scale of 1-10 on how much I can trust people I've gone from a 1 to a 6. I have my doubts but now I take a deep breath and tell myself that I can trust people.
Mentoring
Our mentors and youth workers are trained in the solution focussed approach, safeguarding, the trauma informed approach, communicating with children, setting boundaries, de-escalation strategies and safety planning.
A named Programme Manager assigned to each child and their mentor provides supervision of the mentoring relationship and liaises with referrers and other professionals.
We match mentors with children carefully, based on their personalities and interests, ensuring that mentors have the skills to meet a child's needs.
Once matched, mentors meet with the child weekly for 6 to 9 months. All mentoring sessions take place outside of school hours. During lockdown, we support mentors to deliver engaging sessions remotely through phone or video calls, until it is safe to resume sessions in the community.
Children and mentors spend the first few months building a relationship of trust with the child, by responding to their strengths and interests.
Once they've got to know each other, they set goals for the remainder of their mentoring journey. These goals may focus on social and emotional skills, or on the personal aims of the child.
We also offer group sessions to provide opportunity for social development and practice new skills with other children and mentors.
As the mentoring comes to an end, we prepare children for a positive goodbye by encouraging them to reflect on their achievements and share hopes for the future.
Up to 98% of children show reduced behavioural and emotional difficulties upon completion of the programme. More than half achieve a score that means they can exit the programme with an average level of difficulties, due to the progress they make.
Shia's Story
Things weren't easy for 6 year old Shia. At home mum had just had a new baby which took up all her time and energy. It was difficult to get mum's attention or go and do the things that they used to do together. Shia didn't have anyone to talk to and felt a bit bored; he did have his Xbox, but after a while he wanted to get out and about and run around.
School could be hard too. Shia found it difficult to stay focussed in his lessons and the teachers would often tell him off. He had to miss his break times a lot. When this happened Shia felt sad and that he wasn't good at anything. Sometimes he felt like just giving up.
Here at Chance UK we know that life can be difficult – for everyone!
We're here to help young people feel better- whether that's being calmer when things are hard or feeling confident that they are actually good at lots of things!
Shia was matched with a lovely mentor called Stacy! Each week at the weekend Shia and his mentor went out to do fun things. At first they went to the park for a kick around (Shia loves football) as well as for a hot chocolate and a game of cards. Shia had always wanted to try trampolining so they went to try that! Stacy put Shia in charge of their budget – 30 pounds a month. Shia realised they couldn't go trampolining each week – but that was ok; Stacy showed Shia some new card games and Shia taught her how to play Monopoly!
Shia was starting to feeling a lot better about himself. Stacy reminded Shia that he was brilliant at so many things and Shia could remember this when things were hard at home or school.
Shia and Stacy were getting on really well together. Shia told her about school and how hard it was at home with his baby brother. Together, they went to their first group session. The sessions helped Shia to talk about the things he was good at, to say how he was feeling and to notice in his body when he was starting to feeling frustrated or upset. Other children and their mentors were at this session too. They played some games and talked about what they did to stay calm when things were difficult. Shia thought it was going to be a bit like school but it was actually quite fun!
New Workshop Offer
Transition Workshops
Starting secondary school can feel a bit scary! Some children might be worried about making new friends; getting lost in the new halls and corridors; being bullied or keeping up with homework.
It's natural to feel worried and anxious about this change. Chance UK offer Year 6 transition workshops for pupils to talk about what they are worried about and to find out that their worries are normal and shared by everyone. The workshops talk about where worry comes from and why it's there as well as how to cope when the feelings come up. We know that recognising and naming what we feel helps us feel calmer and that having time to prepare for the change makes it easier too. Students and teachers have said that having the workshop really helped them to feel calmer ahead of the move to Year 7.
My favourite bit (of the workshop) was learning that there are lots of changes in life and you can overcome them.

Year 6 Student
Building strength for tougher times
90 minute workshop offer to support children return to school in the autumn term. We know this has been a challenging time for all but particularly for children and schools.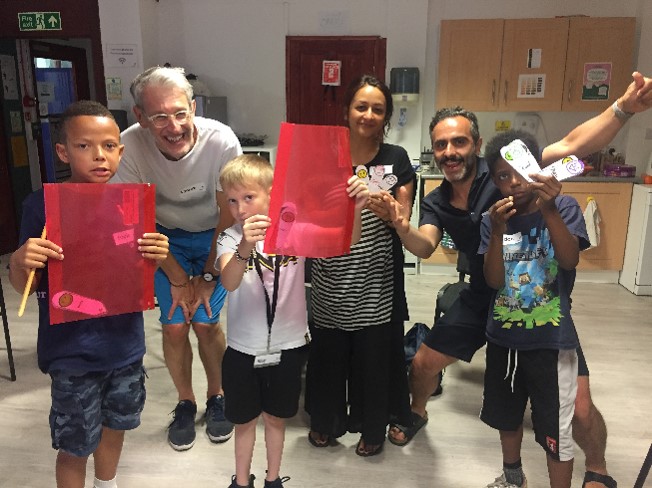 We have developed a 90-minute workshop to support children's return to school. The workshop will help children:
reflect on what's happened and the changes they have experienced (and continue to experience) since the Pandemic and how it feels to be back to school
learn techniques to manage anxieties and worries they may have
draw on their individual strengths, using a solutions focused approach to support wellbeing and re-integration back into school